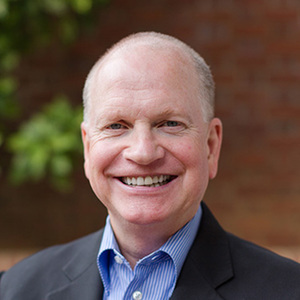 Dr. Danny Akin
Special guest
President, Southeastern Baptist Theological Seminary
PERSONAL
Born: January 2, 1957, Atlanta, Georgia
Married: May 27, 1978 to Charlotte Tammy Bourne
Children:
•Nathan is married to Kelsey and is Director of Network Relations for the Pillar Network, an SBC Church Planting and Revitalization Network of churches.
•Jonathan is married to Ashley, and they have two daughters, Maddy and Emma Grace, and one son, Judson. He is the Director of Young Leader Engagement for the North American Mission Board and has a PhD in Old Testament from The Southern Baptist Theological Seminary.
•Paul is married to Kari, and they have one son, Micah Elliot, and three daughters, Jordan Kate, Kai Elizabeth, and Skylar Lei. He has a Ph.D. in Missions from Southeastern Baptist Theological Seminary.
•Tim is married to Anna, and they have four sons, Levi Michael, Judah Daniel, Caleb Wesley, and Ezekiel Mark, and one daughter, Shiloh Joy. Tim is pastor of FBC Douglasville, GA and is a Ph.D. student in Systematic Theology at Southeastern Baptist Theological Seminary.
EDUCATION
•Doctor of Philosophy in Humanities, University of Texas at Arlington, 1989 ◦Major: History
◦Minor: Philosophy
◦Dissertation: Bernard of Clairvaux: Evangelical of the 12th Century (A Critical Analysis of His Soteriology), 1989.
•Master of Divinity, Southwestern Baptist Theological Seminary, 1983.
•Bachelor of Arts in Biblical Studies, The Criswell College, 1980.
EXPERIENCE
•President and Professor of Preaching and Theology, Southeastern Baptist Theological Seminary, 2004-present.
•Professor of Theology and Christian Preaching, The Southern Baptist Theological Seminary, 1999-2004.
•Senior Vice President for Academic Administration, The Southern Baptist Theological Seminary, 1996-2004.
•Dean, School of Theology, The Southern Baptist Theological Seminary, 1996-2004.
•Associate Professor of Christian Theology, The Southern Baptist Theological Seminary, 1996-1999.
•Associate Professor of Theology and Dean of Students, Southeastern Baptist Theological Seminary, 1992-1996.
•Professor of New Testament, Theology, and Church History, and Dean of Students, The Criswell College, 1988-1992.
MISSION WORK
•2018 Madrid, Spain
•2017 South Korea, Thailand, Mexico
•2016 East Asia, Brazil, Prague
•2015 East Asia, Thailand
•2014 Central Asia
•2013 Taiwan
•2012 Eastern Europe, Guyana
•2011 Liberia, Central Asia
•2010 Montana, Sudan, Central Asia
•2009 Middle East, Kenya, Southeast Asia
•2008 Asia, Middle East, Central Asia
•2007 Thailand, Kenya, Asia
•2006 India
•2003 Paraguay
•1990 Thailand
•1988 Australia (Partnership Missions: Texas Baptists)
•1977 Papago Indians, Sells, AZ
AFFILIATIONS
•Evangelical Theological Society
EDITORSHIPS
•The Southern Baptist Journal of Theology (Executive Editor, 1997-2004).
•Criswell Theological Review (Associate Editor, 1989-92).
MEDIA
•Co-host of "The Criswell College Presents" (1988-92)
Dr. Danny Akin has been a guest on 1 episode.
June 1st, 2019 | Season 1 | 24 mins 8 secs

america., belief, bible, books, christianity, churches, communication, confrontation, education, faith, family, future, god, help, history, hope, language, missions, pastors, politics, revelations, seminary, students, truth, vision

Interview with Dr. Danny Akin President of Southeastern Baptist Theological Seminary. Discussion about the history of Southeastern, its transformation of philosophy and its current values and principles, its mission outreaches, seminary degree opportunities, and confronting the world with Christs mission. Questions also where about Dr. Akins as an author (over 46 books published), and the visions for the future or the Seminary.