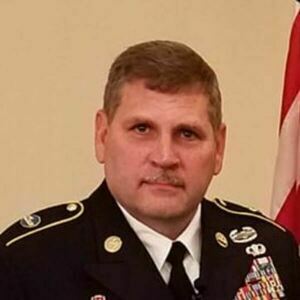 Alex Nelson
Special guest
Current occupation:
Owner and manager of Old Town Gymnastics Academy,
Owner and Manager of Old Town Dance and Cheer
President CEO of East Bend Recreation Park
Retired U.S ARMY Command Sergeant Major (CSM)
Recent accomplishments:
Cheer team won Grand National Championship March 2023
Special Olympic Team Cheer team won Gold Medal, March 2023
Gymnastics Team in Raleigh, won first place team in level 1 & 4
Married to Dawn Mathews, Miss Elkin Valley (1992), graduate of Forbush High School,
CSM Nelson Joined the US Army at 17. He served for 10 years active duty before joining the NC National Guard while serving as Sheriff Deputy, Detective and State Fraud Investigator. He was called back to duty after September 11, 2001. CSM Nelson continued his service with a combined service of 33 years including 2 tours of Iraq, Kuwait, Antwerp Belgium, Luxemburg, Three years in Germany, Guatemala, Kosovo, and Bosnia. His last major tour of duty Balkans National Command Sergeants Major in joint operations. He retired as Command Sergeants Major September 2019. His Awards include but not limited to: Bronze Star, Defense Meritorious Service Award, Joint service Achievement Medal, 3 Meritorious Service, Combat Action Badge, along with 49 other awards and decorations.
Education:
• Master of Arts, Business and Organizational Security Management from Webster University 3.96 GPA
• Bachelor of Arts, Criminal Justice Degree Program from Columbia College University 4.0 GPA
• National Defense University, Norfolk Va Joint Forces Staff College
• United States Sergeants Major Academy, TX
• Command General Staff College, Norfolk VA
Alex Nelson has been a guest on 1 episode.
May 22nd, 2023 | Season 2 | 37 mins 29 secs

alex, christians, community, government, gymnastics, helping, leadership, military, nelson, politics, serving, war

Discover the journey of a great Christian leader from the time his salvation, serving in the military, and leading our future generation in the realms of award-winning gymnastics.