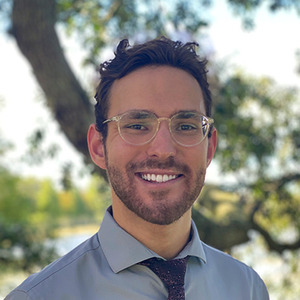 A. J. Britton
Special guest
AJ Britton was born and raised in Orlando, Florida, along with his five siblings. He grew up attending Delaney Street Baptist Church where he learned about who Jesus really was and made the decision to follow Jesus at an early age. As he grew older, the Lord revealed to AJ his passion for people. He loves working with youth and loving on those who may not know Jesus.
AJ recently graduated from the University of Florida with a bachelor's degree in Family, Youth, and Community Sciences and minors in Leadership, Educational Studies, and Non-profit Organizational Leadership. This mix of major and minors has revealed a great amount of knowledge on youth development and working with groups. 

Throughout his time at UF, AJ practically used the formal knowledge he has learned and developed the ability to cast vision while seeing it to fruition. He created a philanthropy benefitting a non-profit and established a mentorship program in his two years on the officer corps of Beta Upsilon Chi. Today, AJ is in the process of publishing a research study with four other colleagues focusing on student mattering and well-being. He prioritizes being a lifelong learner and being open to taking on new perspectives while setting goals and working towards achieving them.

AJ has a heart for the well-being of vulnerable populations involving youth, locally and internationally. While studying abroad in Ireland, he created a camp curriculum for a group of children from several countries living at Eglinton, a refugee hotel. He also spent three months with a non-profit leading a team in forming material for a youth leadership development program in Haiti desiring to instill integrity in the youth. He has applied these skills of listening and evaluation to his role as head male counselor at Camp Lurecrest and a small group leader for the youth ministry at Delaney. 

AJ now looks forward to working towards the prosperity of Winston-Salem and the communities that compose the city. He is excited to build connections, love others well, and allow Jesus to shine through him.

A. J. Britton has been a guest on 1 episode.
November 18th, 2020 | Season 2 | 56 mins

america, belief, bible, books, christianity, churches, communication, confrontation, education, faith, family, future, god, help, history, hope, language, lifestyles, men, missions, ncs, pastors, politics, revelations, seminary, students, truth, vision

The Alpha Project with the NCS is an evangelistic course which seeks to introduce the basics of the Christian faith through a series of talks and discussions. It is described by its organizers as "an opportunity to explore the meaning of life". Alpha courses are being run in churches, homes, workplaces, prisons, universities and a wide variety of other locations. The course began in Britain and is being run around the world by various Christian denominations. For additional information go to: https://newcanaansociety.org/winston-salem/